Chefchaouen – SEVEN Reasons to Put the Blue City on Your Bucket List!
The word magical for this blue pearl of Morocco is fairly overused. Chefchaouen's small, but it is by no means undiscovered. And with the proliferation of social media, its visibility is only going to rise. We would see more and more tourist ending up being here is Chefchaouen! Here, I am going to share with you seven reasons to go now – well, after Covid-19 pandemic is over!
1.It is like nowhere else in this world! Not kidding you! 
Chefchaouen translates to "blue pearl," and it's indeed a rare, stunning gem. If you love Santorini and other Greek villages that defy gravity with their Lego-like stacked structures on cliffs and hillsides, you'll adore Chefchaouen too. But, of course, it's not white, it's blue. Our first day there was sunny, which makes it all magical! But the next day, it was a pretty wet day – making it abit gloomy!
2. A paradise for all photographers!
It's called the Blue City, but Chefchaouen could more accurately be called the 50 Shades of Blue City, as it's full of so many variations on a theme. The reason for the photogenic and people-pleasing palette is up for debate: Some believe it was the Jews who painted it in their religion's divine color (which represents the color of the sea and sky) after escaping Europe, while others chalk it up to blue acting as a mosquito repellent. Anyways regardless of the reasons, the hues are subject to change as the sun moves across the sky.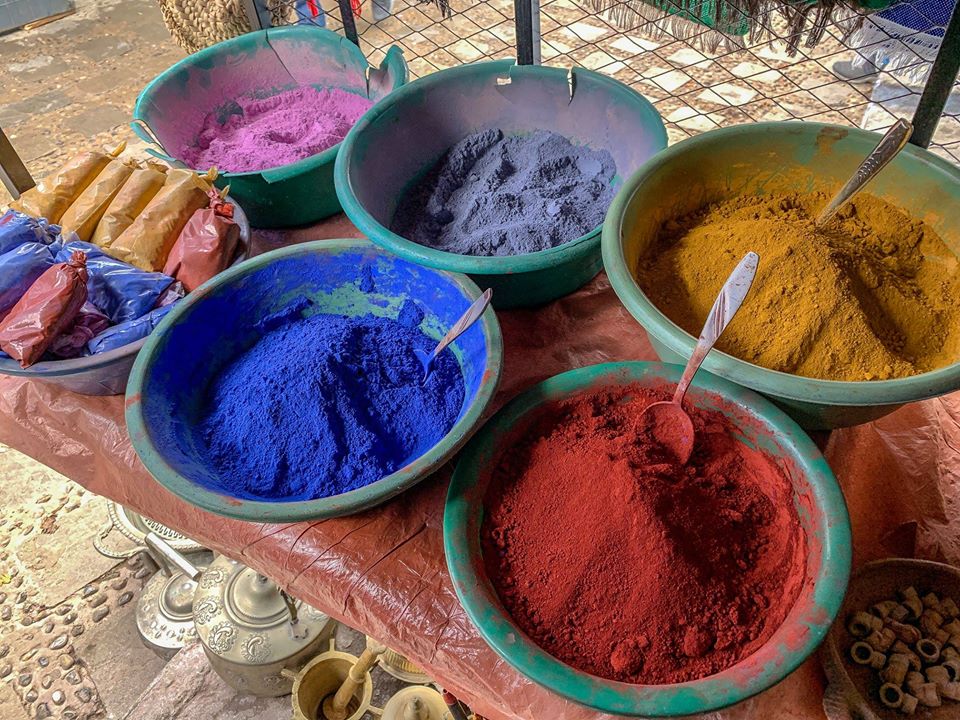 Powder blue, cyan, robin's-egg, indigo, cobalt, azure, periwinkle—it's painted in an endless array of shades that make it feel truly alive.
3. The locals are lovely and you'll sure to make friends there! 
As we were hiking up to Spanish Mosque, we bumped into Nour from Egypt and Latifa from Chefchaouen. Exchanged contacts, be each other photographers and witness the sunset together.  Hmm, perhaps one day we can try visit Egypt?
4.  It's like a real-life cat café.
Everywhere you go, you'll see felines of all sizes, each one of them fluffy and fairly well fed. Not a good idea to pet them though, but they are way too cute especially the tiny kittens peeking under tools etc,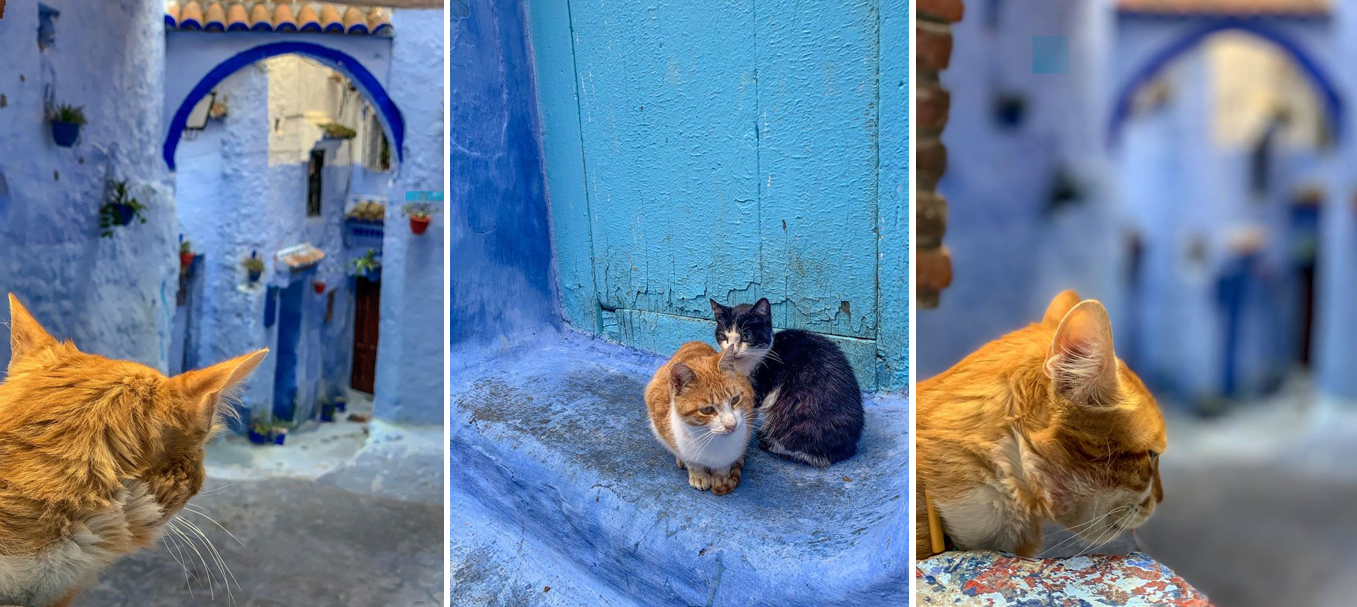 5. It's a tranquil alternative to Marrakesh.
I can't deny that Marrakesh is Morocco's most visible city that is packed with great shopping, food hunt and aggressive salesperson. Chefchaouen, by contrast, is quiet. You can wander in peace, from the inner walls of the medina to the kasbah and everywhere in between, without being bothered, even while shopping!
6. You can watch sunset from the Spanish Mosque Hill.
Although roaming the streets of Chefchaouen is exceptionally beautiful, it's well-worth getting a view from above as well! Chefchaouen's Spanish Mosque, is the best place to get that stunning view from above. The Spanish Mosque was built in the 1920's and sits on a hill that perfectly overlooks Chefchaouen's medina. The only way to get up there to enjoy this incredible view is to take the hike up there. It was during this hike that we managed to make friends with Nour from Egypt and one of the locals, Latifa!
Just a quick info about the Spanish Mosque:
⋙ The mosque isn't in use as a mosque – In fact, the mosque (from what I've read) was never actually used. It's only started to be renovated and restored within the last decade.
⋙ The mosque was build during a war – During the Rif War which was fought between the Spanish, who was colonizing the region, and the Berber tribes of the Rif Mountains.
⋙ Has the most beautiful spot for sunset – Even though our sunset wasn't the most spectacular sunset I've ever seen it's never a waste to see a sunset.
7. Too many souvenirs to shop for! 
I have the tendency to buy more things for others. But this time at Morocco, I make sure we limit ourselves especially when
(1) We only have cash. So got to ration the money as we can only exchange SGD to Dirhams at the airport and we have done so the moment we touch down. Apparently, they do not accept SGD other than the airport. So, we had to make sure we have enough throughout our 17-days trip!
(2) We do not have a luggage solely for souvenirs – we were backpacking (backpacks that look bigger than me!).
That sums up our SEVEN reasons as to why we love Chefchaouen and YOU should one day visit this blue city!