The highlight of our trip to South Africa was our four night stay at Lion Sands River Lodge! Going on safari was an absolute must-do for us, and Irman spent weeks (even months) researching different styles of safaris, game lodges, and all-inclusives. He came across Lion Sands Game Reserve early in his search, but they were at the top of our budget. After many months thinking about it, we decided to commit because it is the most 'affordable' luxury safari experience and just nice – they only had one accommodation left! This safari experience peaked our budget at $7K for a couple, that's 50% of our entire South Africa trip! Is it worth it? Hell yes! We even top-up for a night stay in their treehouse! YOLO!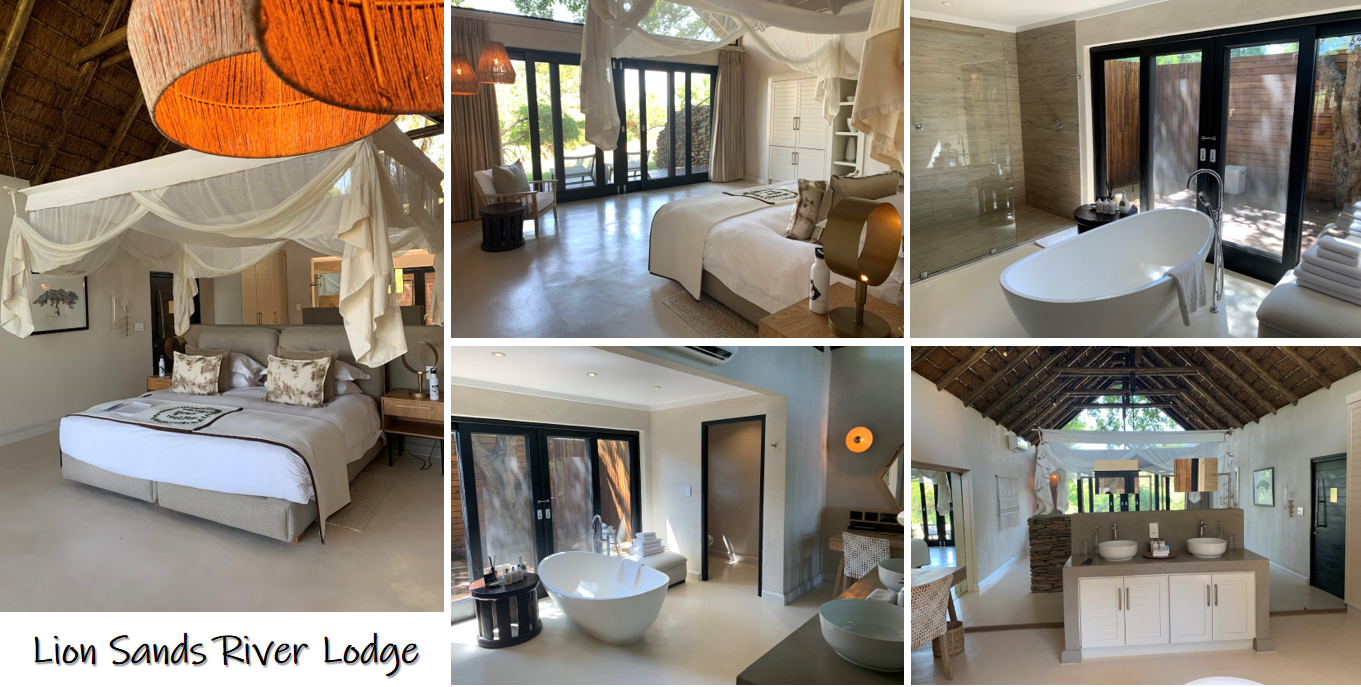 River Lodge's accommodations were luxurious: private thatched roof villas with sprawling back decks and plunge pools. The service and amenities were unparalleled for the price: twice daily game drives (in the morning as early at 5am and one in the evening 4pm), gourmet meals and top shelf bar (which we didnt really get to enjoy except for juices and iced coffee).
⋙ River Lodge Game Drives 
When most people say they're 'going on safari,' they really mean they're taking a game drive. The point of a game drive? To spot large game, namely The Big Five, in their natural environment: elephant, water buffalo, rhinoceros, lion, and leopard. Each game drive is 3-4 hours long, with one at sunrise and a second at sunset. The jeep sits the guide (IP) in the front seat, the tracker (Alfred) on a seat that extends out in front of the jeep, and then there are three rows of seats for passengers, in which we rotate with 2 other couples for each game drive.
This is why Lions Sands is worth all your money: Each lodge has several jeeps and guides, and the guides all communicate with another over headset about track sightings and spotting animals. That being said, we're talking about trackers and guides, individuals with a passion for discovery and a love of the hunt. So while the guides do communicate with each other and occasionally direct one another to spectacular sightings, most of the drive is sheer exploration. In our case, we were lucky to see the big five by day 3! Lucky us!
On our first night at the lodge, we weren't the only guests. The staff set up a romantic table for two! We were at first feeling awkward because we have never ever went on a luxury holiday where they will do everything for you at your request! Even the menu has our names printed on it!
We also had the pleasure of an apprentice guide named IP accompanying us on all of the game drives. It was a real treat having the eyes and expertise of IP and our tracker Alfred. On one of our evening game drives, we saw something quite exceptional. We watched a lion taking down a buffalo. The vultures are waiting for the lion to be done before they can take over the carcass and scraps, screeching and tearing at each other and the meal. I was scared but transfixed too!  And now when I look back at my life and ponder my happiest moments, these memories at Lion Sands River Lodge will certainly be among them.
⋙ River Lodge Treehouse 
Well, you can choose between staying in the villas or their treehouses (at an extra cost!). If you opt to book a treehouse, you also get a room at camp. Just pack an overnight bag for one night under the stars. For us, we had 3 nights in their luxurious room at camp and a night in their Chalkley treehouse. Like all of the treehouses at Lion Sands, it had an unforgettable view of the vast South African bush from its elevated platform.
The friendly folks at the River Lodge took us out to our treehouse at sunset (locked us in) and then bring us back in the morning. It's perfect for us who love the idea of disconnecting but don't actually want to go for days without electricity. Weak wifi for a night, but it was worth it!
If you have more funds and opting for a more luxe experience, you can upgrade to the Kingston Treehouse in Sabi Sand for a full bathroom and shower facilities or the Tinyeleti Treehouse, which accommodates two adults and two kids. Can we go again, with kids in tow perhaps? Hee. That means we gonna need 20K? Someday…
⋙ Hows the food at Lion Sands? 
There are so many culinary treasures to discover in South Africa, and the Lion Sands River Lodge is the place to do it. You will find fresh seasonal ingredients, and best of all, the staff is so accommodating. Back in SG, I would have 'big business' once a week. Yes, I have terrible digestion (or maybe I didn't eat/drink enough to have more frequent visits to the loo). But at Lion Sands, we consume ALOT and I believe they use fresh ingredients with lotsa greens accompanied with fresh juices. They offer us three amazing meals per day plus snacks during game drives. And the bush dinners in the wilderness are a one-of-a-kind experience! Really detoxing man – because every day I will have sessions right after breakfast after first game drive for the day.
The chef and our personal butler are really so accommodating – whether you're looking for vegetarian dishes, healthy cuisine, or endless indulgence, you'll be covered. Being Asians, we are so used to doing things on our own, not choosy, shy to ask for special meal etc. It took us awhile to get used to being treated so 'special'. Wah, can we now switch to luxury travelling baby? Can can?
⋙ Activities at Lion Sands 
At Lion Sands, we customised our experience for an adventurous getaway, a wellness escape (at least for me), or a bit of everything.
We went on game drives (available twice a day) or walking safaris to get up close and personal with the Big Five: lions, leopards, buffalos, rhinos, and elephants. The expert field guides and trackers guided Irman through the South African bush while I opted for a 'me time' to unwind with a full body massage at the on-site Africology Spa. We had a blast!
There is no better place on the planet to appreciate the incredible beauty of nature than South Africa. With breathtaking scenery and stunning wildlife, this is one country that you can't miss out on. For someone who is very afraid of animals, I would say this is a wonderful experience!