Engaged
We were in a courtship for 3 months before we decided to take another step further.
We were in a relationship for 2 years 8 months. (What? How time flies?)
8 months ago, on the 7th December 2015, he proposed.
6 months ago, on the 17th January 2016, his family came over to merisik.
Finally, today, on the 7th August 2016, we got engaged. Overjoyed? Yes. Scared? Yes too. You know, they say "Orang bertunang ni, banyak cabaran dan dugaan dia." I am hoping everything goes on smoothly from now on hingga ke akhir hayat, Amin.
Started off the day pretty smooth, my younger brother helped my dad to clear the furniture out into the corridor so that the house will be spacious for guests. After which, the caterer came to set up the tables, food and drinks at the corridor. By 1145am, I am all set to be dolled up by Natasha from Nawwarah Bridal. She is so friendly, easy-going and she made the whole experience of making up a painless one. Particularly when I have sensitive eyes. It got all teary when she started to put on eye liner, fake lashes and god knows what else near my eyes. But after awhile, I guess I am used to it already. I am anxious as to how I looked with makeup on, especially when Irman wants me to still look the 'same', not too overpowering. Hence, as she dolled me up, I had to keep on indicating I want something simple, not too thick but just glowy and radiant.
ps: I should have opted for a nude lipstick! Well, to be honest, I didn't know I can ask Natasha to change the lip color after the first application. Oh wells.. I look a lil goth with that Mauve colored lipstick.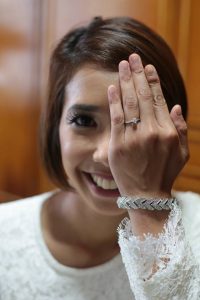 Soon after, family and friends start to stream in bit by bit. My side is waiting for the Irman's side to arrive. Come 240pm, we heard a loud HONK. So loud that the entire neighborhood heard the honk. Tsk, I don't need the entire to block to know about your arrival. But then again, it's indeed a smart way to inform us they you've arrived!
His side came, discussed the terms, exchange gifts, sarung the ring and eat. Not long after, Irman came up to join me!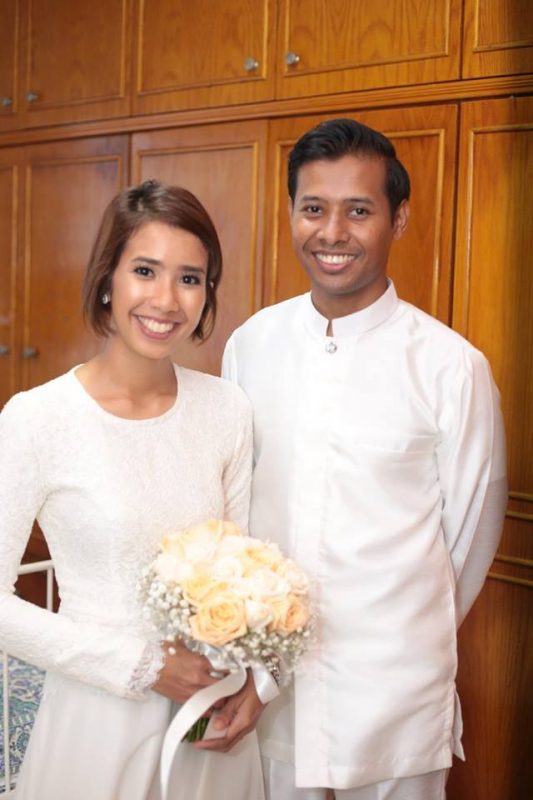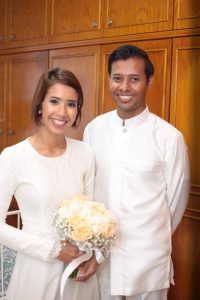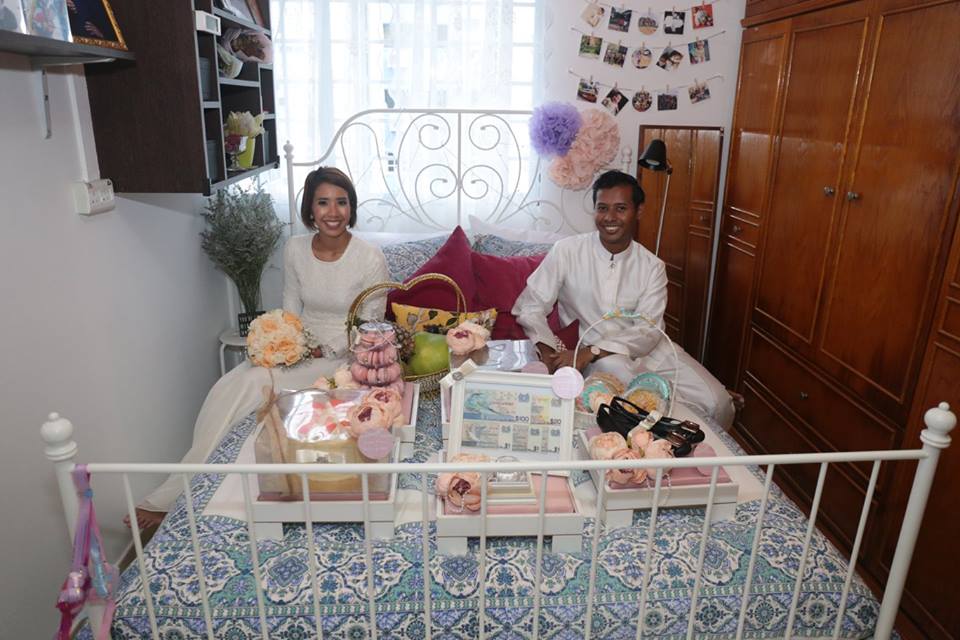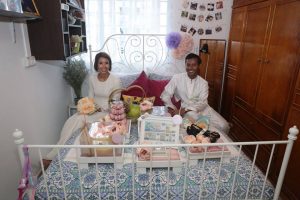 All I can say, this would not have happen if not for our family members whom helped us alot for this event. Particularly when we could not be the one doing the labour such as topping up food etc. Credits literally goes to our family members. Kudos to them! Now, that we are officially engaged, I guess I must be very careful with my 'tata tertib' as I am now someone's fiancee. Now, the planning for wedding is next up! Lucky we have wedding planner to help us with it, cos my HOD just informed me (despite telling her I wanna stop taking Graduating classes in Year 2017 since late last year) that I am going to take over one Sec4Express class next year. Not fair! So much for telling her in advance about my plans. Then again, i suppose she needs me haha.
Can't wait to attend Irman's Convocation next week followed by another recce of wedding venue with our wedding planner! Fun-filled week! Eh, not really la cos next week quite pack w Teachers' Day Concert Rehearsal. Term 3, pls end soon cos I am dying already with the amount of work that is coming in at the rate of an exponential function. Literally no kidding.
Alright then, adios amigos. Back to vetting of End Year papers.