Day 0 to Day 5: North New Zealand
Kia ora, we are safely back in SG. It was a great 16 days off from reality (work). It is such a pity that Irman has to report to work straight away after we touch down (the next day, i mean). But, the trip was AMAZING. We have all the time that we want to enjoy each activity, plan our day/route, try all the activities such as skydiving, bungy jumping, climbing mountains, trekking, cooking, adding another milestone (with a stone on my finger) and not forgetting getting ourselves killed not once but twice. This is sure a hell of a trip!
Day 0:
We had an 11 hour journey from SG to Auckland. We thought we were flying on Emirates, only to realise its Qantas instead. The food ain't as great but well, still food (we need to fill our tummy on such long flights). We took about 7 hours to Brisbane, Australia before continuing with another 4 hours flight to Auckland, NZ.
Day 1:
We were amazed on how the immigration checks went on. They actually asked us if we have any trekking gears with us. Of course, we said we had our tent (which is new), trekking stick and shoes. They took our shoes and cleaned them all up. They are concern about humans polluting their land (all for preservation and conservation). Soon after, we bought vodafone sim card to allow us to be contactable during the trip. Actually, it is for us to fb/insta. Haha. After which, we collected our rental car – Ford Focus in Blue. We made it to our first farm stay with Kevin Old and Coral Old. Irman loves Coral's Veggie Fritata so much! The next morning, Kevin brought us around his farm and we managed to meet his grand-daughter's horse, Toytoy.
Day 2:
After breakfast and the tour around Kevin's farm, we head to our first every activity planned on our itinerary – Hobitton Movie Set Tour. We may not be an avid fan of Hobitton, but it's great to visit the place. All I can say is – The set is magical and we looked across at Hobbiton and were stunned by the beauty of the scene and the attention to detail. It is like stepping into the film! Well, it is the film set Nadz! On a farm!
After the tour, we head to Rotorua for Geothermal Walk, Mud Bath and Sulphur Spa at HellsGate. The smell is like a slap in the face as we get out of our car but we accustom to the fresh stench of sulphur as it soaks in to our skin in the sulphur spa. The mud bath is so warm and revitalising, the shower then leaves us feeling refreshed before we dip our toes in to the sulphur spa. Only downside is the after stench we carry with us for a day but the soft skin, healthy insides feeling is totally worth it. Real soft skin!
With our smelly (but silky soft skin), we head to our next accommodation with Lorna. She welcomed us warmly and even invited us to watch Sherlock Holmes on her projector. It was so sweet of her. We watched half way and off to bed. We need a good night rest especially for tomorrow's activities!
Day 3:
Honestly, I can't wait for this day for one reason – we gonna 'kill' ourselves. Correction – we gonna skydive and bungy. Yes, all in a day. If you asked me for AFIs, i would split these two activities. Skydive in North NZ and Bungy in South NZ. But then again, I like what we've planned. 🙂 Okay, here comes the funny story. We requested for an early skydive – 8am. So we were the only pair jumping off an airplane. We requested for freefall pictures and videos, but guess what –  they forgotten all about it. I remember the tandem masters asked "You have cam on you?". Of course, we said no. But only to realise that they mean to ask if we wanted any of pictures to be taken and/or videos to be recorded. Damn, the misunderstanding. So, we took the first skydive without any extra manpower to record us. We only realise it after we landed safely. Turns out that owner forgot to tell her people about it. So they discuss among themselves and came back to us with two options.
(1) To get $50 off?





(2) To jump again without any extra cost.
We decided to jump again. Come on, it isn't our fault anyways. Its $488 okay, we should get what we pay for right? So, there we go again, another one more round of skydive. Crazy overloaded! Also, they offset $160 for the pictures and videos as a form of apology too! Fuhhh, why not?!!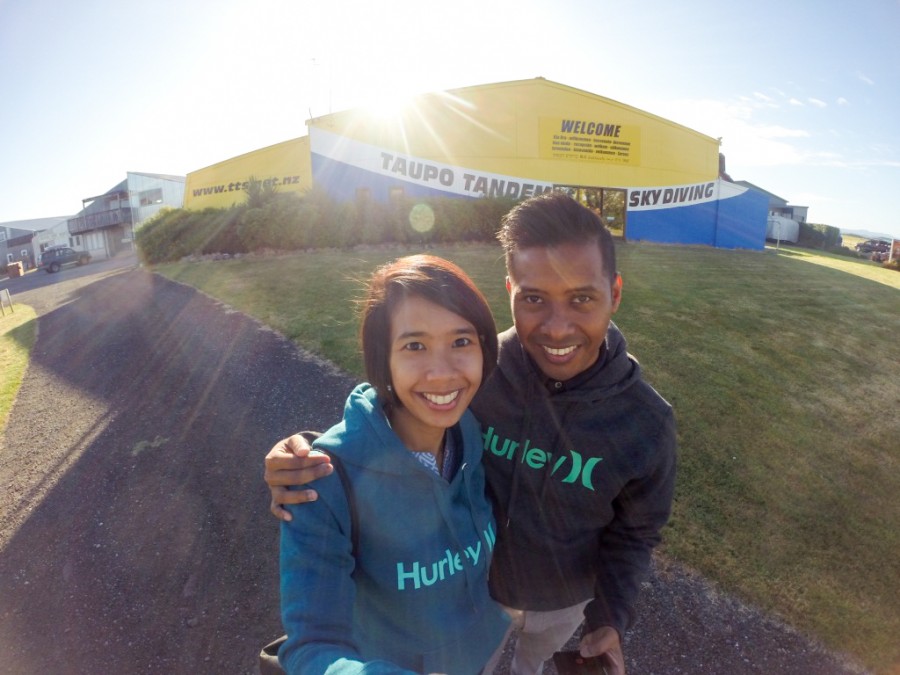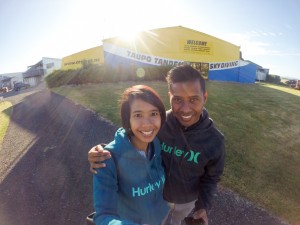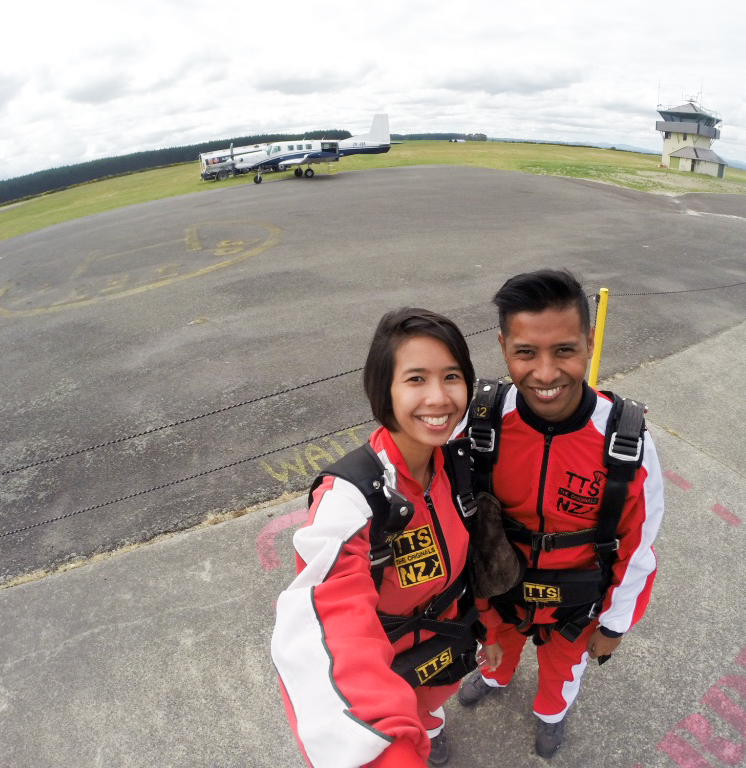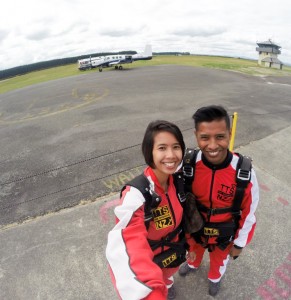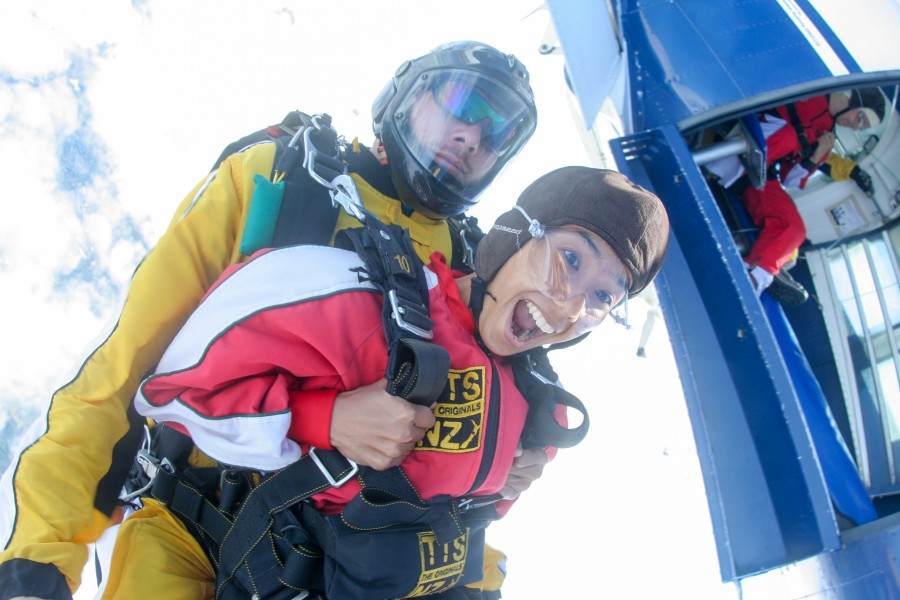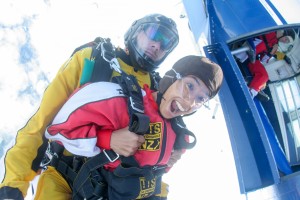 Like as if skydiving twice in the morning isn't enough for us, we went on for what's in store for us – Bungy Jumping. Am not that thrilled for this one, lucky Irman agreed to do it together!
So, by the end of the day, our adrenaline is so high that somehow we got tired from all that scare. We dropped by Tongariro Alpine crossing but the weather wasn't that great. So, we head over to our next accommodation – a cute cottage with an alpaca in the backyard!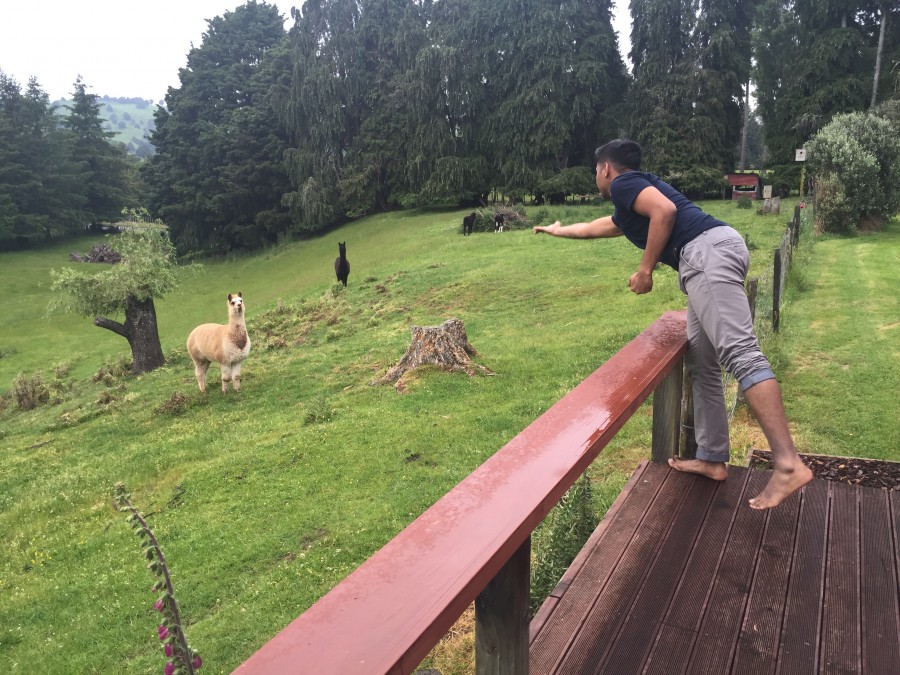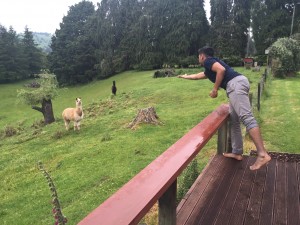 Day 4:
After the good rest, we left early and head over to Mount Taranaki. On our journey to Mt Taranaki, we were mostly on 'Forgotten Highway' and we went inside the tunnel too! Not forgetting, we skidded abit on the gravel road though. Tsk.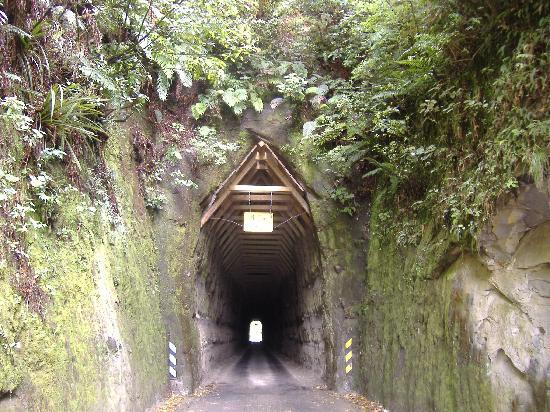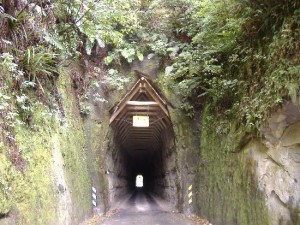 We were so under-prepared. In just two layers of clothing and a small bag pack (no heat pack whatsoever). It was drizzling when we started our trekking. We thought it would be alright, but the weather was pretty bad. I wanted to retreat but Irman was damn adamant about trying to get to the summit. So, i pushed on (not to disappoint him). We didn't reach the summit only cos the weather was really bad. Our vision was poor as we couldn't see the next pole leading us up to the summit. It was really scary, scarier than skydiving. So, we retreated back down to base.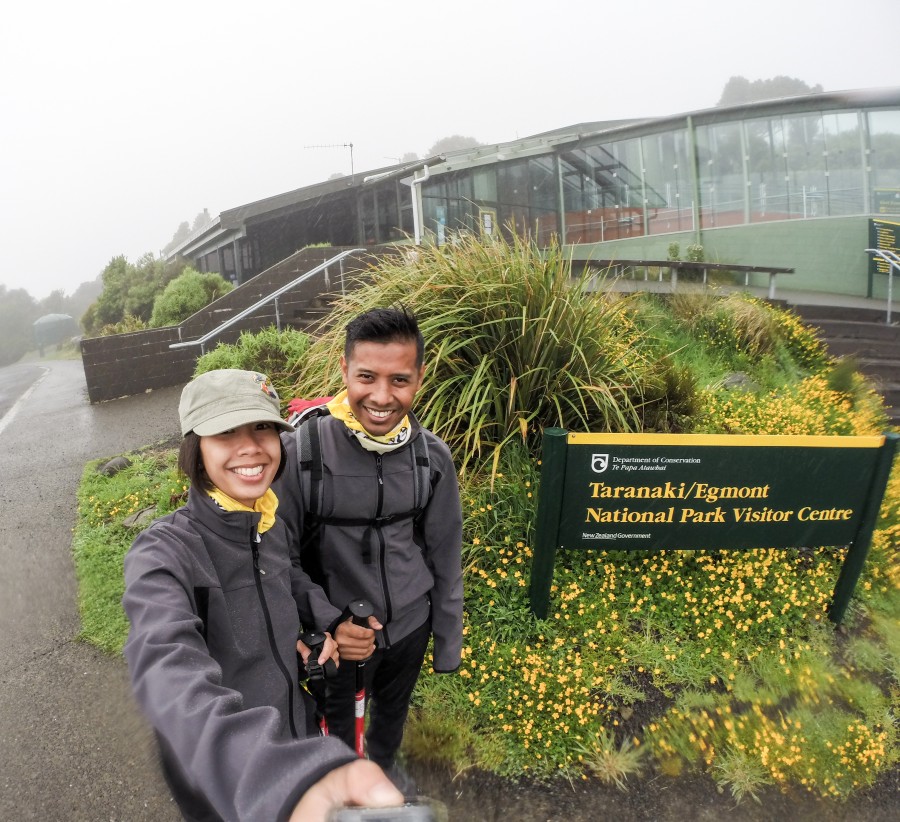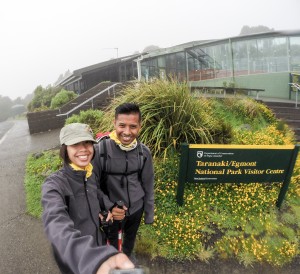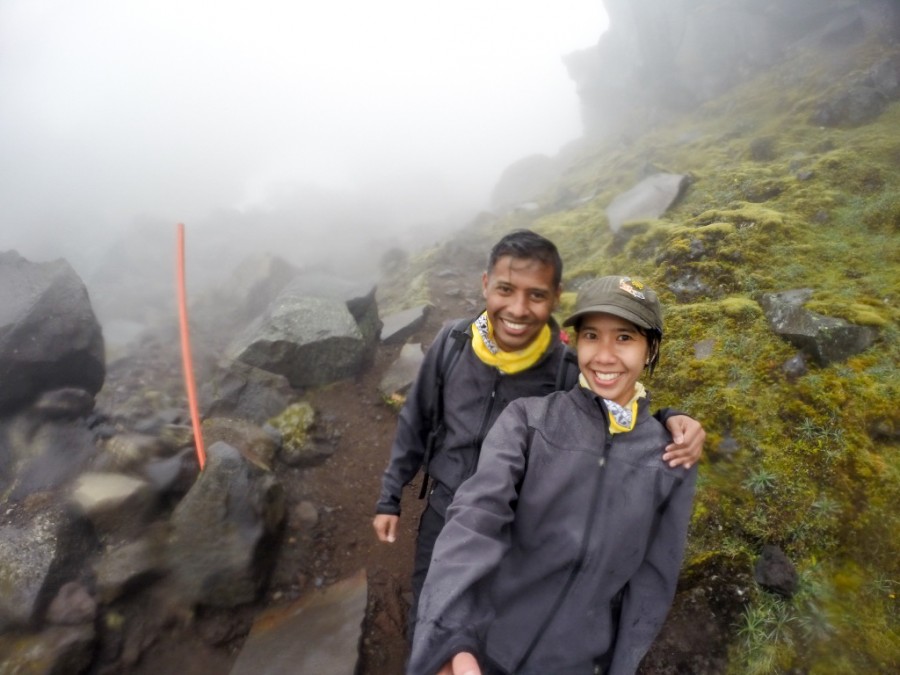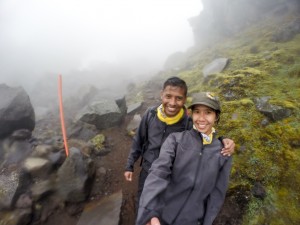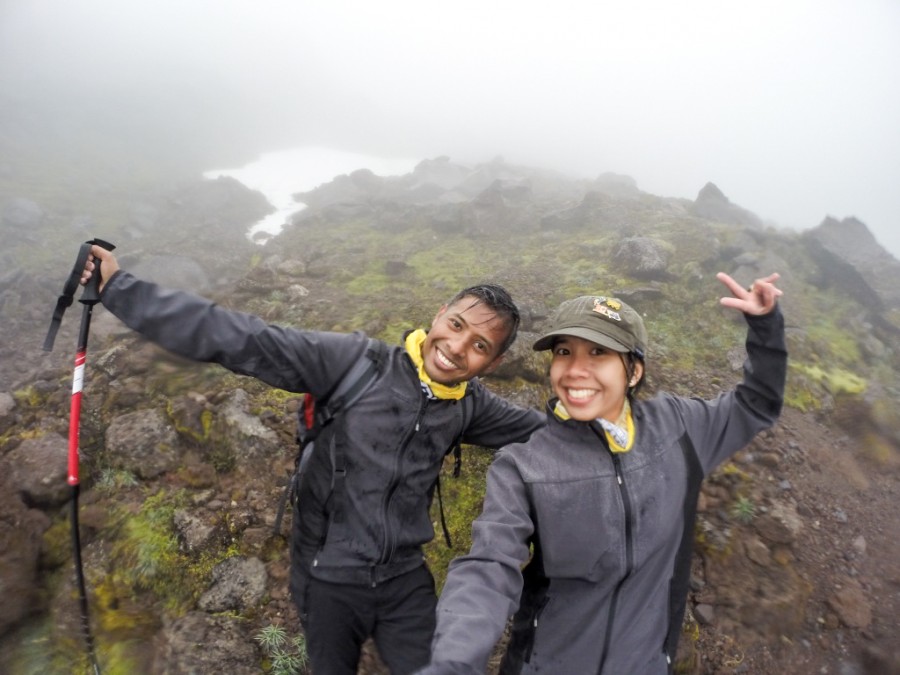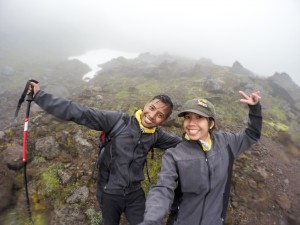 Day 5:
Today, we headed down to Wellington. It was a total of 5.5 hours of drive! Well, we took turns to drive that day. Once we arrived at Wellington, we searched for food! After all that driving??! So, we tried The Crab Shack! I've never had a lot go of crab at one go in a day! What a great way to end our trip at North NZ.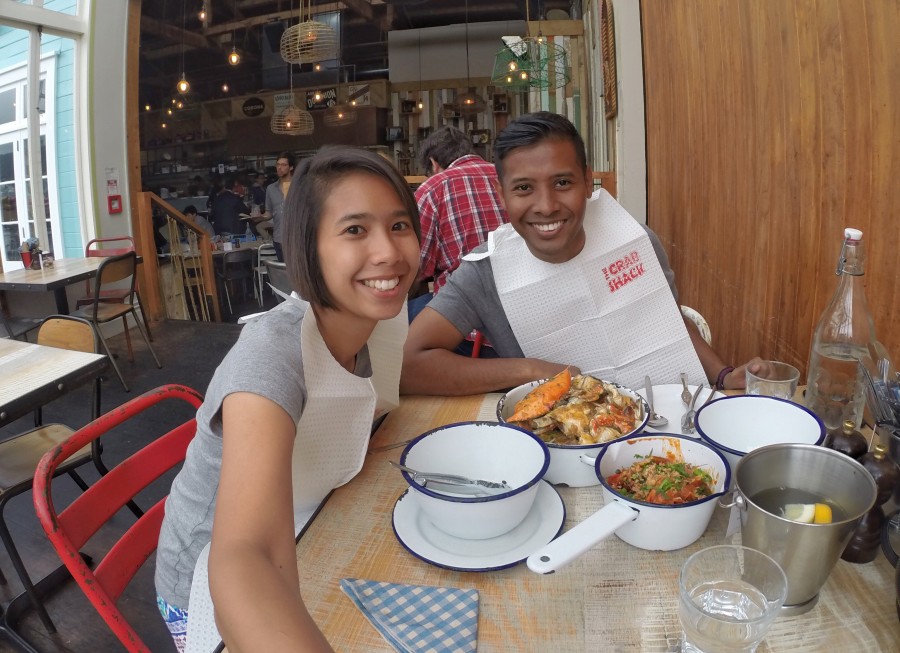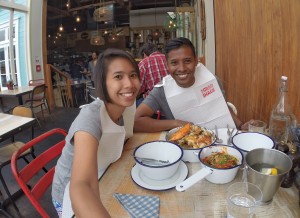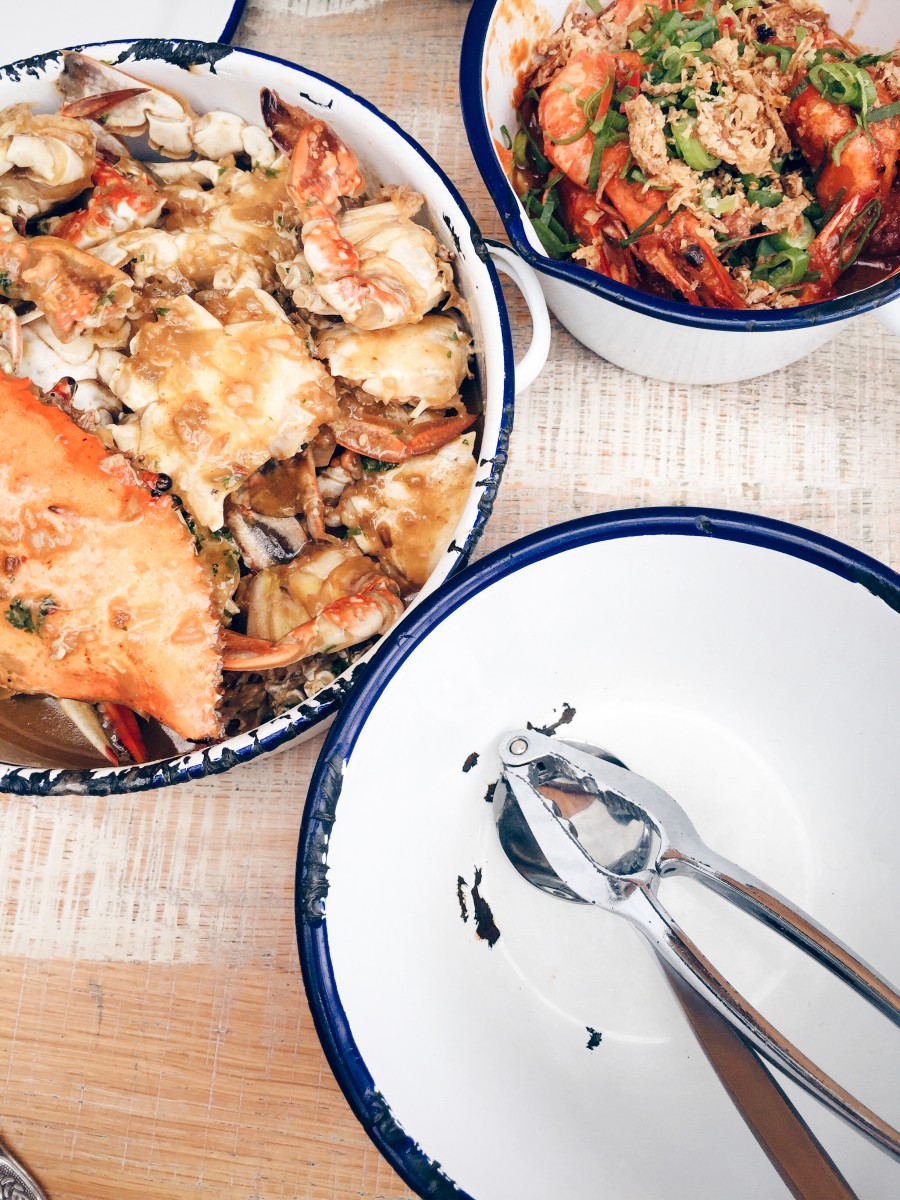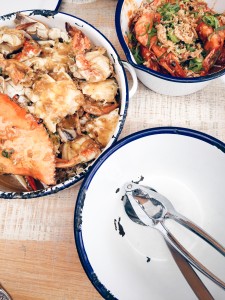 After lunch, we board the interislander over to South NZ. Once we 'landed', we head to Choc Yurt! It was pitch black. So dark that we can see stars! We checked in close to midnight. Too tired and too cold to even shower. We just had to brush our teeth and head to sleep. Yes, smelly lazy people we are!
Yeap, thats about it for North New Zealand! Wished we spent more time there! But woohoo, can't wait to document our trip to the South 🙂
Hei kona rā!