We are 2 weeks to our adventure! Meanwhile, we have been trying to keep ourselves fit. This is to get us ready to hike up Mt Taranaki and Mt Roys! So, we ensure we have our weekly runs, trekking and hiking from McRitchie to Bukit Timah Nature Reserve! Recently we made a pact to run at least 20 minutes each day! What?!? All these measures are to get us ready for NZ. I truly know we deserve to travel… around the world.. with my craziest partner!
Well to me, traveling is truly one of the most amazing things one can do together with your loved one. While solo travel can be empowering, inspiring and rewarding, a trip with your special someone can create blissfully sweet memories that you will cherish forever. If you asked me, I would still choose Irman as my travel buddy really. No one else can stand my quirky need to be neat. My idea of 'Law of Straightness'. Everything must be in proper, else the world will explode.
Travelling with your best friend can…
(1) Strengthen our relationship
When I travel with my best friend, I get to face a tonne  of challenges, experiences and obstacles that will help develop a bond that is much stronger than the bond built through watching movies or shopping. The experiences in our travel as a couple provide a lot of opportunities for relationship growth. Plus, travel can test the strength of our relationship.
In short, it can either make it or break it.
(2) Create and share unforgettable memories
We'll be writing together history as well as create awesome adventures and moments to which you will always look back with affection and humor. Remember the silliest fall we had – Irman at Pamukale and me at some ferry staircase!
(3) We won't get bored.
Long flights and/or drives are more fun and entertaining when I have my favorite person sitting right next to me. Honestly, it is far better than playing any in-thing game on my smartphone.
(4) Brings out my partner's true character
Heading towards a serious relationship? Then, make sure to have an adventurous travel escapade with him or her before committing. Traveling, in many ways, can push Irman or myself away from our comfort zones, which will let us discover our partner's positive and negative traits.
Also, the combination of culture shock and exhausting globetrotting can somehow bring out some of the deeply hidden flaws of our partner's character. That's why we should keep an eye of how our loved one acts toward hotel staff, flight attendants and waiters during your time together on the road.
(5) New experiences together
Can you remember the last time you, as a couple, that we did something new? As I travel with my special someone, I will have plenty of opportunities to experience something both of us have never tried before.
(6) Epic twofies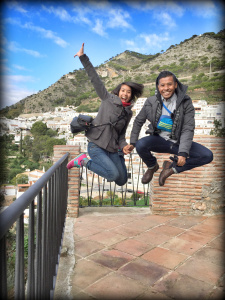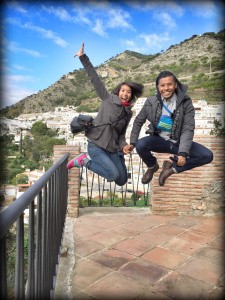 Traveling with Irman lets us take ultra cool and epic twofies and not to mention – our epic jumpshots!
(7) Learn to trust and rely on one another
Travel experiences with Irman, such as hiking and camping in the woods, will help turn us into a better team player. Be dependable on each other, esp when you lack some basic necessities and comfort zone etc.
Ahh, 27th November, pls come fast!
Love,
the overly excited irmanadz!