On the 29th December 2016 at 1015am, we got the keys to our first home. We are excited to purchase our perhaps the biggest ticket ever, but at the same time, pretty scared on what lies ahead of us in the future. Our wedding, marriage, home reno and whatever that comes along. I guess we will learn along the way? Don't we?
Well, the morning started off pretty rocky. I wasn't feeling very well on the previous night. Since, work is coming in the next few days, I decided to consult a doctor to chase the flu bug away. After a visit to my neighbourhood clinic, we head straight to HDB Hub. Just in time to receive our keys. We registered at the self-kiosk but their printer was offline. First hiccup, but it's okay, they have their reception counter.
After which, we head to Etiqa booth to purchase our Home Fire Insurance that cost a basic fee of $6.60. If you wish to have insurance to protect the contents of your house (eg. TV, sofa, ding table, bed etc), you can sign up for their standard premium package of $242.00 for 5 years (beginning right after you finish your home renovations). What's more important, is the fact that this insurance cover for your neighbours too, in the case our house burn down and affected other parties (up to $500, 000). I think it is worth it, just in case. But we will sign up only after our home renovation has completed.
After settling the fire insurance application, we head straight to table 513 to meet the HDB officer who is going to handover the keys to us. Turns out, the contractor handover the keys to HDB on the 24th October 2016. About two months later, it is ours! She calculate our finances, ask us what is our comfortable repayment period, inform us on some the restrictions on renovations, what to do when we need screeding, where/whom to turn to when we have burning questions, forward us Letter of Offer, Deed of Assignment, Mortgage. In short, sign here and there! As she settled our paperwork, she assigned us to go up to Level 3 to make payments for the 1st Month Service and Conservancy Chargers aka Tong Sampah Payment for $69.00 (either cash or Nets).
Before I proceed further, may I rewind back to the way she started the whole meetup – once we set, she looked through our HDB File and suddenly she asked, "Are you married? May I have your marriage certificate?". My heart sank. At the back of my mind, I asked myself didnt I read the terms and conditions (many times over and over again to double check that we are eligible to apply a BTO and get the house keys first even if we are not married???)? I remember specifically we have till 31 December 2017 to produce our Marriage Cert. Yes, we have another year to go…. So, she went on to check with her senior officer and came back with an apology 🙂 Pheww, she said our case is pretty rare hence, she wasn't too sure. As she was away checking with her senior, Irman and myself pulled out all the documents that indicated we can deliver our Marriage Certificate latest – 31st December 2017. So, we were safe! Adoi, pls ah HDB Officer, dont make me heart attack can? Hehe.
The second time my heart stopped was when she asked "You have your parents IC with you?". Well, here's the deal. Why we get the house very fast – we applied Sales of Balance Flat (SBF) that is super near my parents place. So, we get were under the Married Child Priority Scheme (MCPS). Under MCPS, we have to be
(i) in the same estate as my parents',
(ii) within 2 km of your parents' (if in a different estate).
As a result, we got priority in the balloting process. Plus the unit we chose was about to complete. Swee swee we got it all even before we got married. In return, my parents and us, we are literally grounded to where our houses are for a period of 5 full years. That means, my parents cannot sell the Yishun Unit, Irman and myself also cannot sell off our Canberra Unit. Well, what are the chances right? Now, back to her qns of requesting for my parents ICs. I recalled we do not have to bring such documentations. Again, I 'studied' the Appointment Letter from the start – they didnt indicate to bring my parents' ICs. Or did they? So again, we dig our and indicate there is no need for it. And then, we stated that on previous two sessions with HDB, we actually brought my parents and I am sure their IC was photocopied. Then, she checked our HDB file once more. To our relief, she once again apologise cos we already complete that section in our previous appointment w HDB. Again, phewww. That's when I asked her – are you new to HDB? Because you asked qns that made my heart stopped! Indeed, she was new. Hence, the sudden anti-climax questions popping up.
I can still recall, she ended off the session by saying "You want me to take a picture of you?". Of course we do! I even asked "Is this a service provided by HDB or by you?". She gladly said "By me!". Indeed a nice lady 🙂 May she learn the ropes fast enough in her line of duty!
Soon after, we got our Starbucks, sell our iPhone6, shared a meal at Burger King (cos we wanna lose weight for something coming up soon) and off we go to our new place.
We went around to check on the house, test all 18 keys, check on windows, door latches and almost anything we can check on. There were some defects that Irman found, recorded and took picture off! More in the next few visits, especially when I have Irman who has an eye to spot all the defects no matter how minor it was!Points to note: Bring a masking tape, marker and door stopper for our next visit!
After we settled our house, we dropped by Aisyah's and Fithrin's unit on the same block. They were with their ID, making one final round of defect checking. Happy for them because their house is gonna be ready real soon! Soon, we will have a place to lepak! After settling theirs, we brought them all to our unit. Jalan jalan abit and off we go to find FOOD. We were… famished!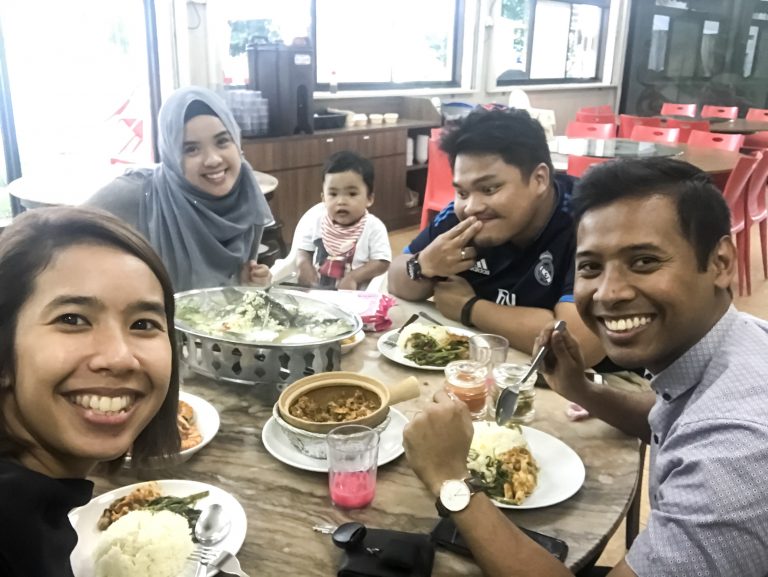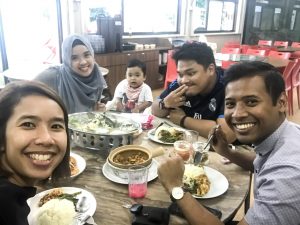 Eat all we can, and off we go to bowl for a short while. That's where we found an old NPCC friend who is working at the bowling arena! After bowling, Aisyah and Fithrin went back home. But 9pm is still very early for us, so we drop by our Unit once more! Just to see how it is gonna be at night. After the adventure, we went back home. That's a full day filled with adventure. Thank you Irman for doing this with me. I couldn't thank you enough!
Okay la, that's it for now. It's time for a nap. Enjoy the post readers!