The Sahara Desert makes you feel so small!
Well, the next 3days 2nights was definitely the highlight of the trip as we got to glamping/ experience luxury camping in the middle of Sahara Desert! But of course, it takes us a journey of over 8 hours just to get from Marrakesh to Merzouga!
It started off with a morning drive from Marrakesh and what followed through was not what we (we had a van filled with other tourists too) expected. We got up early and was served with a heavy breakfast. Knowing it was going to be a long journey, we ensure that we had our breakfast before heading out. I recalled those who did not have a proper breakfast, they feel rather nauseous during the journey through the winding road overlooking the Atlas Mountains.
Along the way, we dropped by one of Morocco's World Heritage sites, the Ksar of Ait Ben Haddou for lunch! The ksar, a group of earthen buildings surrounded by high walls, is a traditional pre-Saharan habitat. The houses crowd together within the defensive walls, which are reinforced by corner towers. Ait-Ben-Haddou, in Ouarzazate province, is a striking example of the architecture of southern Morocco. Fun fact: This is actually the set for Gladiator and the Game of Thrones series!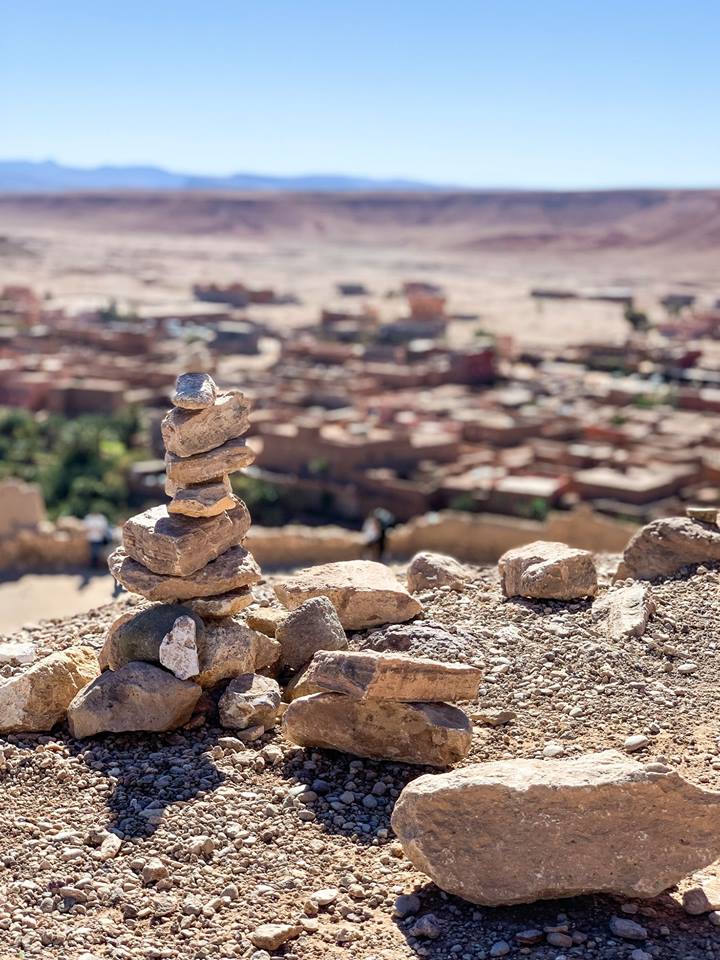 Here, we bought some scarves and sunglasses for the Camel Ride scheduled on the following day! Of course, it serves nothing much to us cos we hardly put on the scarves and the sunglasses! These days Ait Ben Haddou is still a major trading stop – it's just that tacky souvenirs are the goods and it's the tourists (like us who bought the scarves and sunglasses) who need defending.
After a proper lunch, we head out Tizi n'Tichka (called Col du Tichka in French) is a high mountain pass at an elevation of 2.260m (7,410ft) above the sea level, located in the High Atlas mountains, a mountain range in central Morocco in Northern Africa. Tizi n'Tichka means "difficult mountain pasture" in Berber and you'll see why.  The road has more than 100 turns. And I am amazed at how the drivers are all so experience, especially when they overtake a bigger vehicle!
Lucky for my Young Living Peppermint, I managed to survived the winding roads! It was not so bad as compared to the others in our van, but we sure were prepared for the trip with chocs/biscuits and snacks along the way!
On the last pit-stop at the end of the day, we visited the Ouarzazate City! Ouarzazate is the largest city in south east Morocco. Previously, several other cities were its provincial subordinates, now it is known as the Big Ouarzazate. By that time, me and Irman were already set to just head to our accommodation and have a good rest before our actual arrival to the Sahara Desert! 
On our second day, we met our crazy guide where he brought us a morning stroll at Dades Gorges and Todra Gorge. He brought us around to see how the Berber Community lives too. Then, we visited a carpet maker who showed us a couple of carpets made by different tribes in Sahara. He explained that no one carpet is the same. Each carpet is handmade and is unique! We almost wanted to buy a small carpet for our kitchen but the thought of lugging it around kinda discourage us! Glad we did not buy one actually!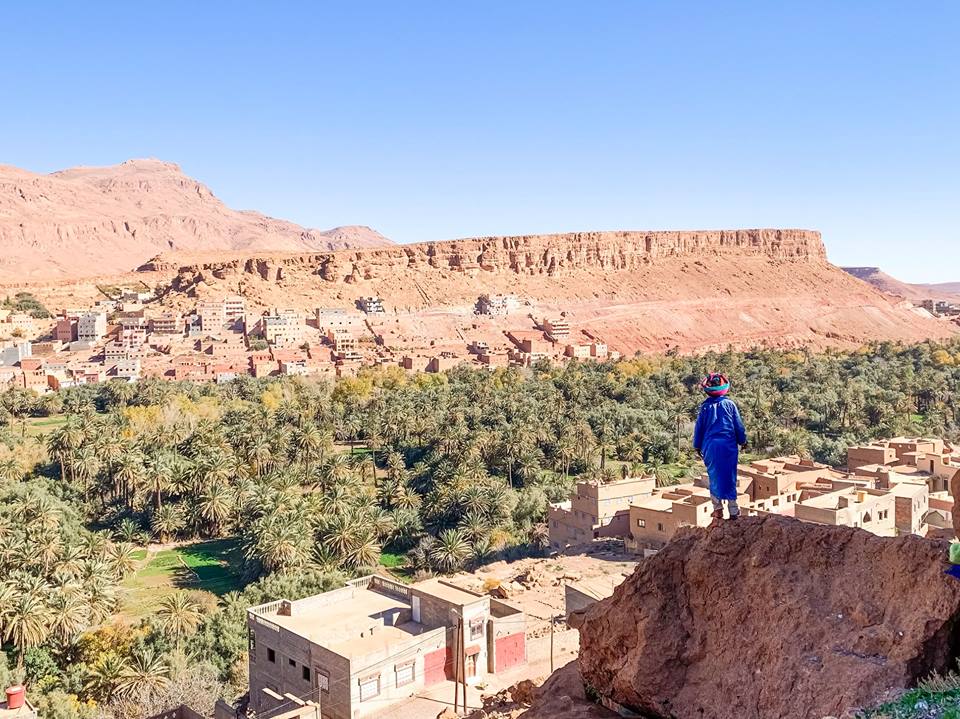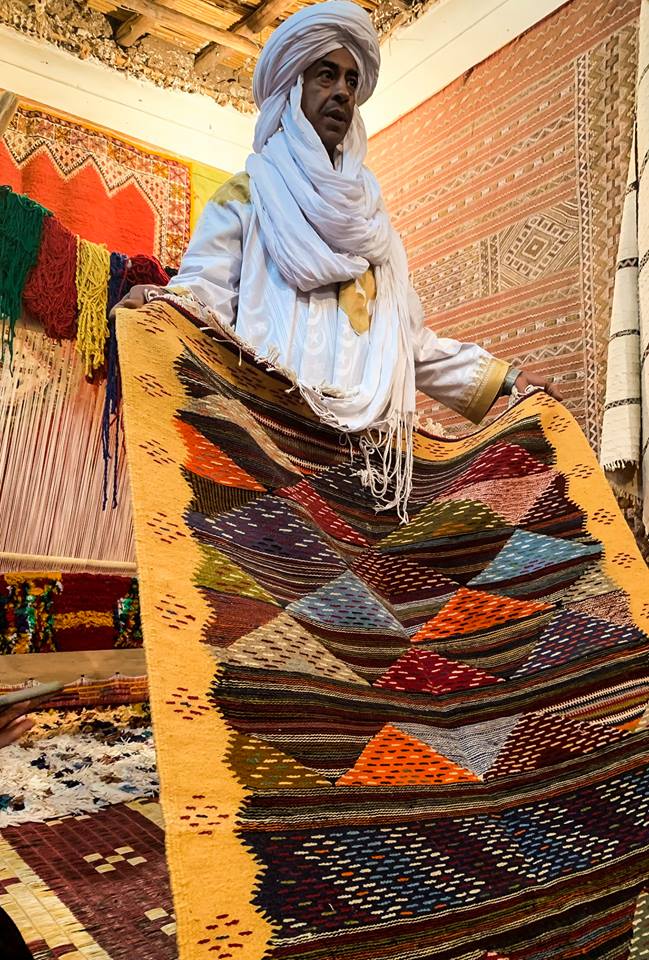 After lunch, we head to the desert (like finally!!). Arrived at 630pm and we hop onto a Camel which brought us to the luxury campsite (Bouchedor Luxury Camp at Erg Chebbi) just in the nick of time! Throughout the ride, we managed to enjoy the sunset!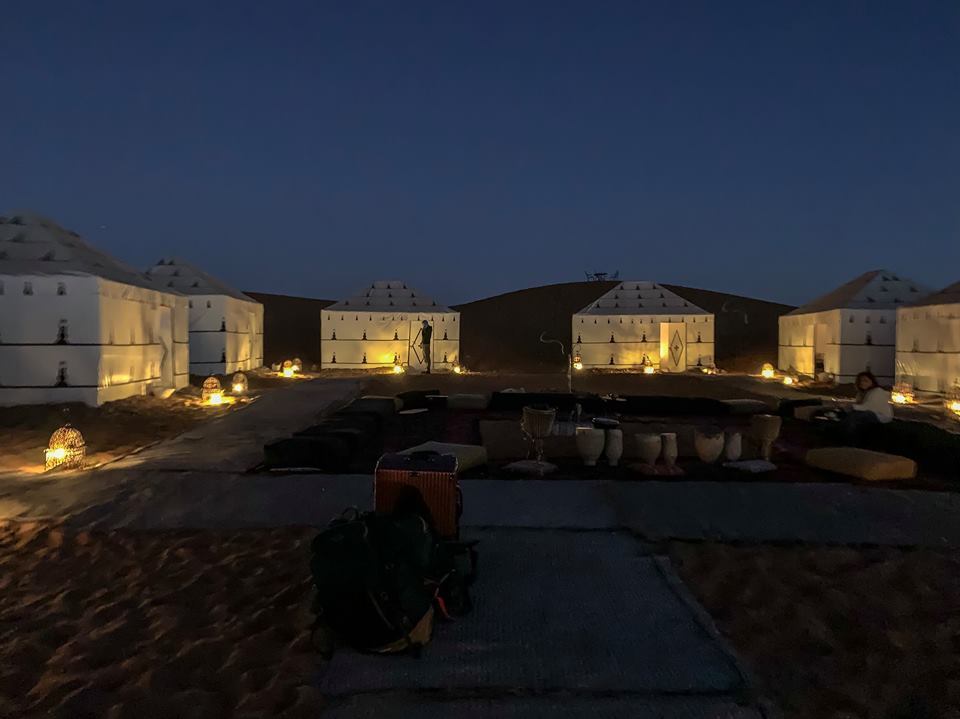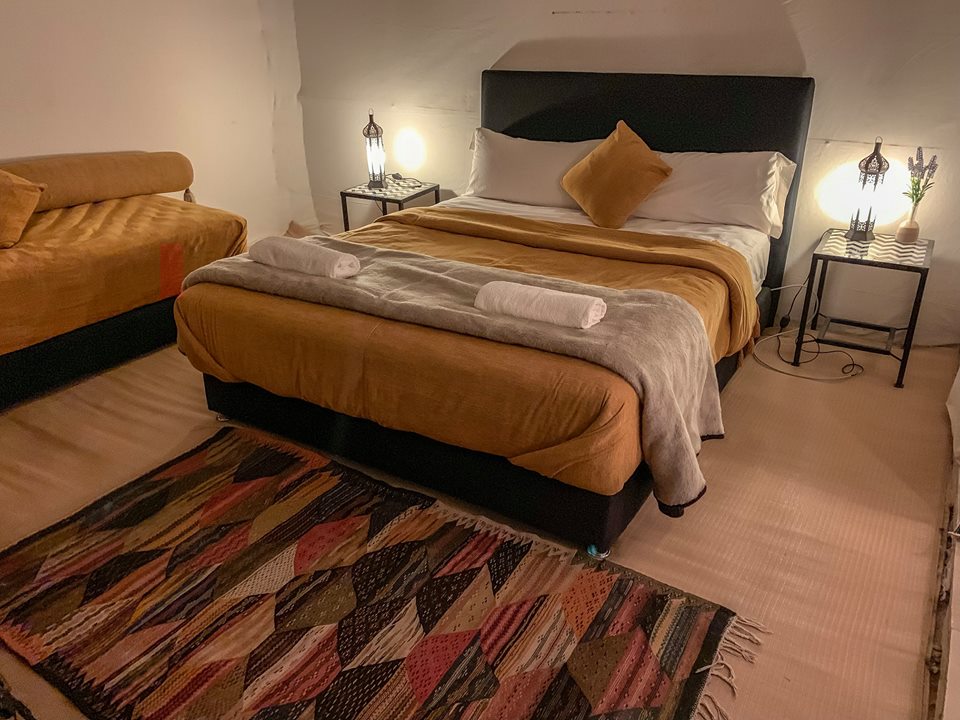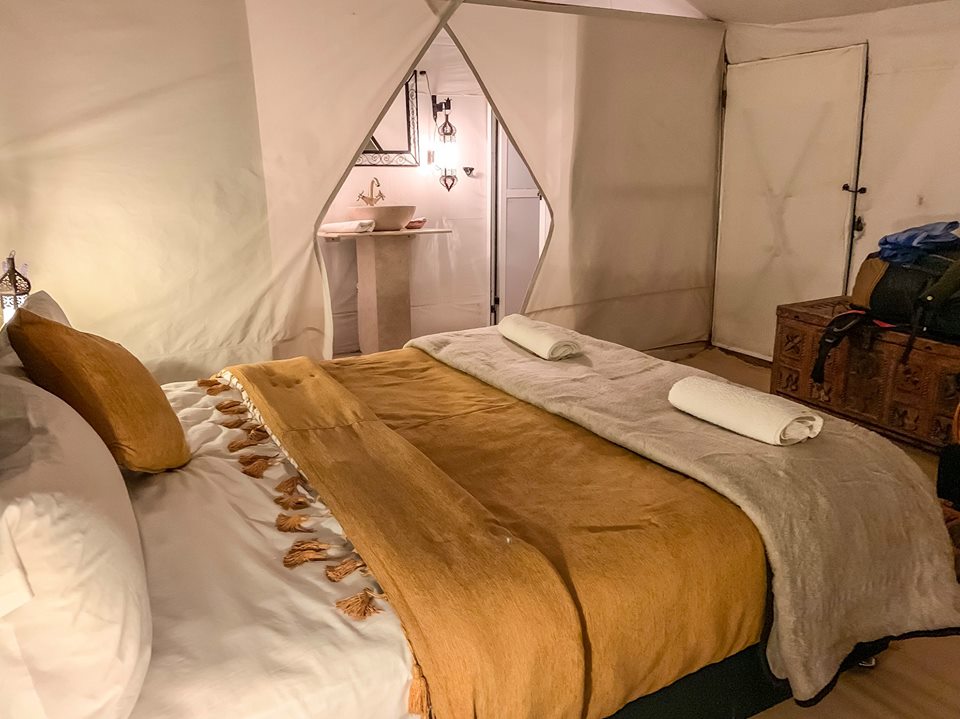 We were served dinner and had a campfire session with the Berber nomads in which they shared abit of their life story and some lame jokes seriously! We made friends with guests from America, Italy, Spain and China! Also, I managed to see my first ever shooting star too (hope it is not tuju-tuju la!). By midnight, we head back to wash up and have a good night sleep! We were so eager to catch the sunrise, so we were up by 6am and wait for the sunrise!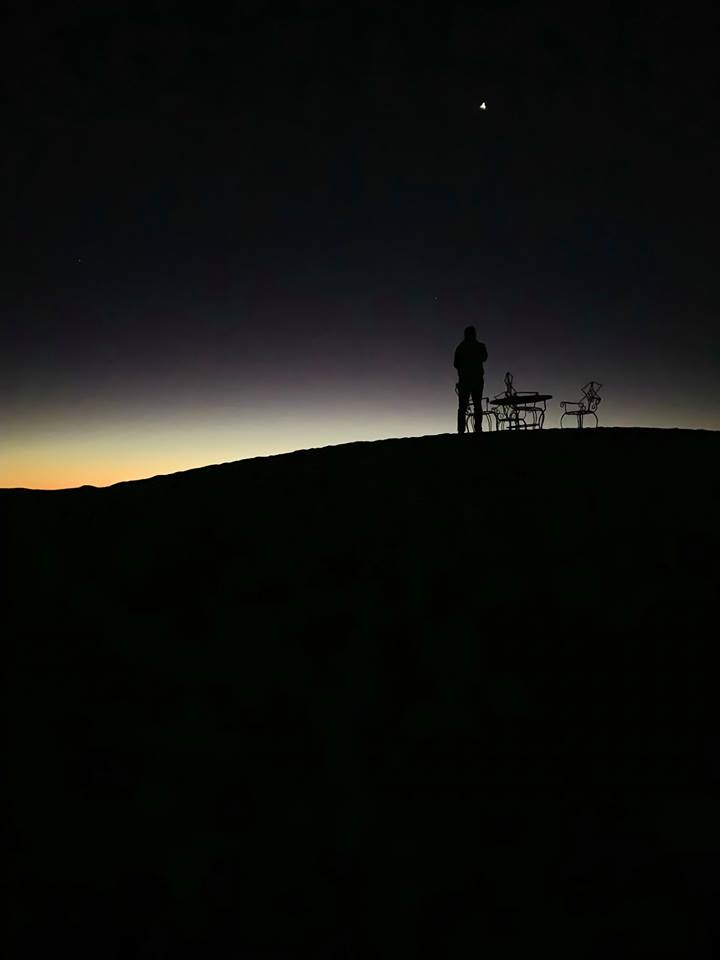 We can't go a day without bathing, so as early as 6am, we are up and Irman was making weird noises as he was bathing, causing the neighbours thinking there was a camel right outside their tent. Actually, it was just Irman and his weird noise, trying to tahan the cold water! After witnessing the sunrise, we had our sumptuous breakfast and off we go for another camel ride!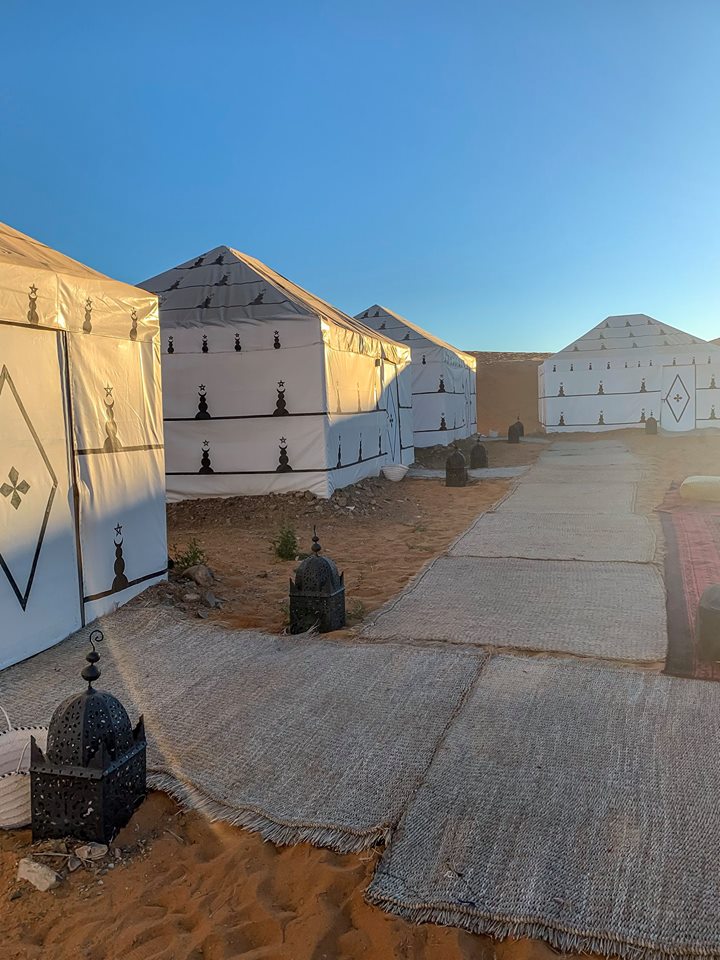 That same morning, we head off back to Marrakesh for a full 10hours drive! Only to come back to such a wonderful riad – Palais Sebban!
Alright adios for now! Next up will be our trip to Essaouria!