Updates on Home and Wedding (early July)
As of now, we are exactly 95 days to our big (much awaited) day. *squeals* Double digits! OMG I just can't wait to be Irman friend-girlfriend-fiancee-and finally his wife! I am gonna just make sure I put my heart and soul in Term3. By the time Term 3 is over, we have about 1 month to go! And tadaaaaa… I will be on the aisle with with Irman by my side 🙂
Well, this weekend, we finally had the entire family down for tailoring! Omg it was so kecoh but I am glad to see everything and everyone coming together. We have Ibu, Ayah, Abang, Nurul, Adik, Fawzi and Erne. Seven baju kurungs is no joke okay! We will have another appointment next week for Irwan and Irman's Dad. In which we will then collect the groomsmen baju kurungs. Not forgetting to custom tailor for Irman's Navy Blue baju kurung for one of the dulang gifts to be exchange during our wedding day! Means, next year, we are going to celebrate Hari Raya in Navy Blue! Cannot gain weight for a year – else cannot fit for Raya later! 2018 – our first raya as Husband and Wife. That is going to be very interesting 🙂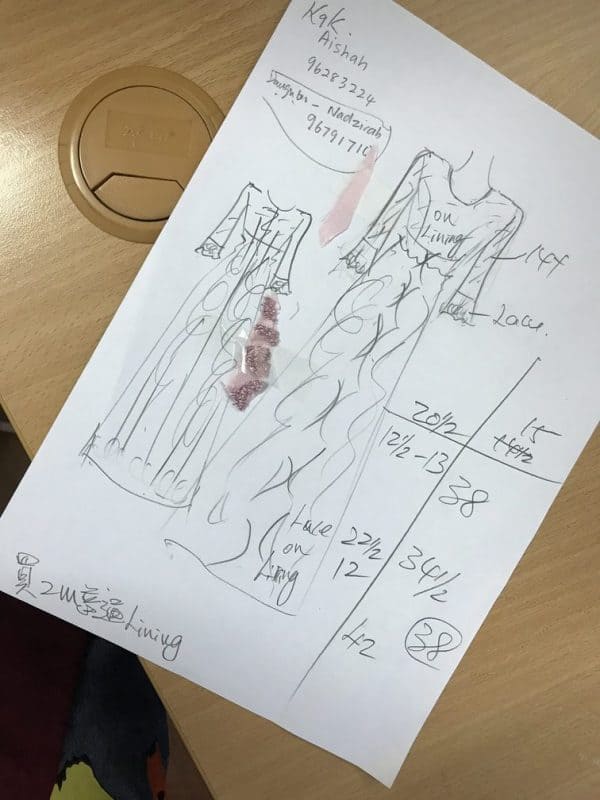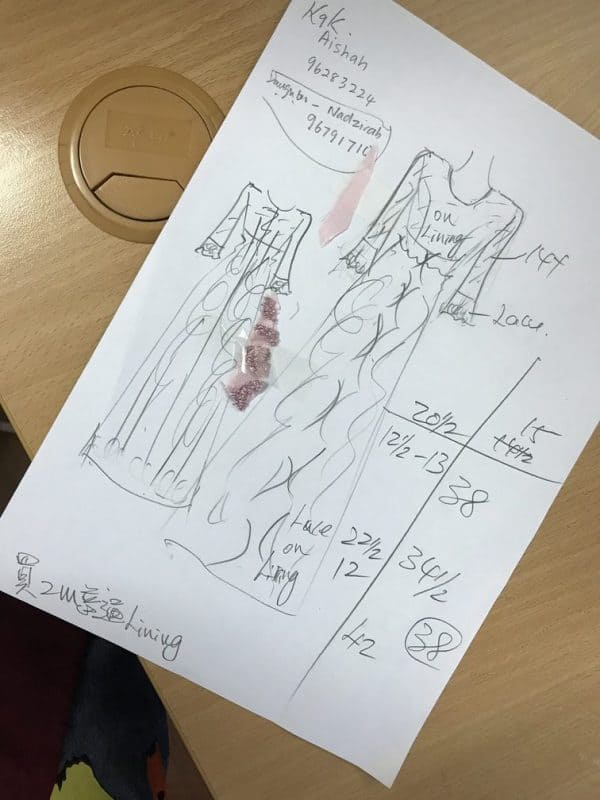 Ibu's one of a kind baju – dah mcm Pengantin pula :)With all these kecohs, the next day, we went to visit Irman's family. Food was good and the company was great too!
As for wedding prep, nothing much for now. Can't wait to meet Kak Mas on the 13th July to choose the decor for our wedding reception. This is going to be FUN. I can now have an idea of how our wedding gonna be like. Simple yet elegant in pure white. Irman has also managed to liase with Riaz on the Wedding Banner as well as the Directional Signages. I am please with the outcome. Though it took Riaz weeks to finalise it, but glad we cleared this. Now, its gonna be printed. One thing down! Wedding cards are in too! We have been updating our guest lists all this while. Getting addresses etc is a hassle but glad we are almost done! We can't wait for the stamping of our Wedding Cards. Tedious job but worth all the effort!
Alright then, enough about wedding updates! Now, the most exciting project we have ever embarked on our life together – the home reno. You might be wondering – why is our renovation taking longer than expected. Here's the reason why –
1. screeding was hell (free stuff means got to wait)
2. because screeding was free and workmanship so rabak one – we had to hire Guna to help us with self-levelling
3. Irman 'picks' on almost everything (yes, everything) he isn't happy about the whole reno (his argument – it is our first home, we have spent so much, so we need to make sure it turns out perfectly! I hate to say this – he is absolutely right.)
4. we are in no rush and expected our home to be ready by August (at least 2 months before our wedding)
I am super happy when the floors are in. Finally, floors in, so that we can now have guests (mcm paham kan Nadz, kau nak guests duduk mana?). Next up, we have the
1. fans to be mounted,
2. lights to be in,
3. kitchen carpentry to be in, and
4. toilet accessories to be installed too.
Once the bedroom wardrobe is in, we can then order our 'hotel' bed to come in as it will take about 2 weeks to manufacture! Meanwhile, this weekend we went out shopping (at 9am) at Comfort Design (http://www.comfortfurniture.com.sg/) . It has a wide range of furniture to choose from, can customise the tables and chairs and most importantly – it is rather affordable. We spent $1927 for
1. 4 dining chairs (I've been dying to have those chairs and finally wish granted!)
2. 2 bar chairs (In the design and colour that I wanted.)
3. 1 dining table (1.5m long, customised the base to make it more stable)
4. 1 dining bench (customised to fit the dining table)
Each week, we are broke beyond the definition of broke. Not forgetting our flight tickets for honeymoon too which we purchased last month! But we will get thru this k! We will 🙂
Adios – I need to get ready for Term3Week2. Let's endure it guys!